During WWII the BBC made its reputation by circumventing Nazi propaganda by broadcasting the truth. On our EU referendum the BBC has now sunk to a level of lies Dr Goebbels would have been proud of. There is one TV station broadcasting in English called Russia Today. Its on channel 135 in my region just past Skym on 132. It broaddcasts lots of stories that don't fit the BBC/ITV/Sky agenda so its defintely worth a look.
It has a web site www.RT.Com which covers the stories BBC does not see fit to include on its EU propaganda web site. The only other web site worth looking at is Reuters at www.reuters.co.uk. Although it is business orientated it does include stuff that does not fit the BBC 's political agenda.
Here is a good story from RT today
Protesters clash with riot police at May Day rally in Paris (VIDEO)
Fresh clashes between protesters and riot police have erupted in the French capital. Sunday's march of trade unions and students protesting against labor reforms proposed by the French government coincided with International Worker's Day.
While people were demonstrating in the streets in a traditional May Day parade, sporadic clashes with police erupted, according to RT France's correspondent reporting from the scene.
Police deployed tear gas to disperse some particularly hostile demonstrators.
Protesters threw rocks, trash and paint at security forces, while also letting off firecrackers and shouting slogans, RT France reported.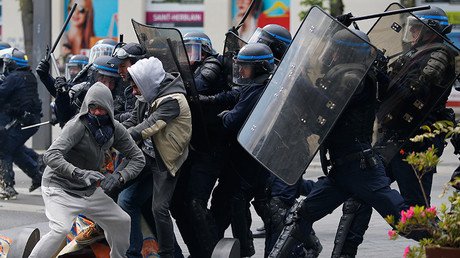 France, including its capital city, has seen a wave of violent protests recently, as thousands of people take to the streets to demonstrate against labor reforms. This week, security forces clashed with protesters in Paris, Nantes, Lyon, Rennes, and other cities. Police have detained a number of people.
I cannot recollect seeing anything about French civil unrest on the BBC this week although it has clearly been going on for some time.
Here is another story from Ruters this time concerning the Alternative fur Deutschland party , the AFD, that does not fit the Beeb's muticultural agenda. Its leader, Frauke Petrie is a nice looking motther of four who goes down well on TV so an obvious NoNo for the BBC.
Anti-immigrant AfD says Muslims not welcome in Germany
Members of the anti-immigration party Alternative for Germany (AfD) on Sunday backed an election manifesto that says Islam is not compatible with the constitution and calls for a ban on minarets and the burqa.
Set up three years ago, the AfD has been buoyed by Europe's migrant crisis, which saw the arrival of more than one million, mostly Muslim migrants, in Germany last year. The party has no lawmakers in the federal parliament in Berlin but has members in half of Germany's 16 regional state assemblies.
Opinion polls give AfD support of up to 14 percent, presenting a serious challenge to Chancellor Angela Merkel's conservatives and other established parties ahead of the 2017 federal election. They rule out any coalition with the AfD.
In a raucous debate on the second day of a party congress, many of the 2,000 members cheered calls from the podium for measures against "Islamic symbols of power" and jeered a plea for dialogue with Germany's Muslims.
"Islam is foreign to us and for that reason it cannot invoke the principle of religious freedom to the same degree as Christianity," said Hans-Thomas Tillschneider, an AfD lawmaker from the state of Saxony-Anhalt, to loud applause.
Merkel has said freedom of religion for all is guaranteed by Germany's constitution and has said on many occasions that Islam belongs to Germany.
"ISLAM IS NOT PART OF GERMANY"
Up to 2,000 left-wing demonstrators clashed with police on Saturday as they tried to break up the first full AfD conference. About 500 people were briefly detained and 10 police officers were lightly injured, a police spokesman said.
The chapter of the AfD manifesto concerning Muslims is entitled "Islam is not a part of Germany". The manifesto demands a ban to minarets - the towers of a mosque from where the call to Muslim prayer is made - and the burqa, the all-encompassing body garment worn by some conservative Muslim women.
Germany is home to nearly four million Muslims, about five percent of the total population. Many of the longer established Muslim community in Germany came from Turkey to find work, but those who have arrived over the past year have mostly been fleeing conflicts in Syria, Iraq and
Afghanistan
.
Last month the head of Germany's Central Council of Muslims likened the AfD's attitude towards his community to that of Adolf Hitler's Nazis towards the Jews.
Although the AfD aimed to broaden its political agenda during the congress, members hardly debated on domestic issues, such as taxation and social welfare.
The party's leadership has proposed the introduction of an income tax bracket system and the abolition of inheritance taxes, which experts say would benefit high earners.
The head of Germany's DGB confederation of trade unions, Reiner Hoffmann, sharply criticised the AfD's programme.
"Their alternatives are nothing but simple, dull and inconsistent," Hoffmann said in a speech at an DGB event in Stuttgart to mark Labour Day.
He said the AfD was not only conducting a hate campaign against refugees, but also aiming for a tax policy that was against the interests of workers.
So you dont have to look hard to find alternatives to BBC propaganda. The truth is out there as Mulder and Scully used to say.