There were two polls conducted immediately after the debate. Both made Farage the winner by more than 2 to 1.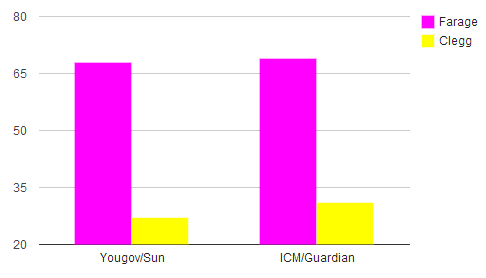 There was some evidence of BBC bias with Clegg allowed to rabbit on and talk over Farage and once when Farage was talking they cut away to an audience member shaking his head in disagreement.
It was an excellent result for Farage and UKIP. Let us hope it is reflected in the European elections and the LibDems are wiped out.
Farage can strengthen his point on Putin by stating the truth that Putin effectively stopped war monger Clegg and my neighbour Ashdown getting more of our young men killed in a dispute which is none of our business and where our involvement would be counter productive.
Farage's killer point came at the end when he said, "Nick nobody believes you". That resonates with the UK public who asked for a single word to describe Clegg say liar.
The UK public want to hear UKIP's common man message and conversely don't want to listen to more careerist identikit politicians like Clegg.
Farage was clearly going after the white and Afro Carribean working class vote. I hope he succeeds.
Farage kept his cool, rose above the Clegg personal insults re his MEP salary and did himself and UKIP a power if good.
It would have been better to keep Nuttall off the TV and leave the talking to O'Flynn. Not everyone is enraptured by a scouse accent. I t has overtures of militant trade unionism. O'Flynn is also a whole lot smarter than Nuttall.