I quote from today's EU Observer
http://euobserver.com/political/126106
The unusual attention for the obscure Latvian MEP, Iveta Grigule, was due to the fact that earlier that day, Grigule resigned from the eurosceptic Europe of Freedom and Direct Democracy (EFDD) group, which led to the break-up of the faction.
Any EP group needs to have a minimum of 25 members from at least seven different countries. The EFDD, formed mostly of members of the UK Independence Party and Italy's Five Star Movement, had scraped together one MEP from the Czech Republic, France and Latvia, and two MEPs each from Lithuania and Sweden.
A meeting of political leaders chaired by EP president Martin Schulz on Thursday took note of the group breakup following Grigule's resignation.
In a press statement, EFDD claimed Grigule was "blackmailed" by the leaders of the two largest groups - the centre-right European People's Party and the Social-Democrats - in order to get the chairmanship of the EP-Kazakhstan delegation.
"Concerning her resignation, Ms Grigule told the secretary general of the EFDD group that 'I had to do it to get elected'," the EFDD statement reads"
This is seriously bad news for Farage, money and staff lost
,
According to EP sources, the pro-Russia stance of Ukip leader Nigel Farage may have played a role in the Latvian's decision, whose party, the Latvian Farmers' Union, is in government coalition talks back home.
"In Latvia, there is no left or right, there are only pro-Russia and anti-Russia parties," an EP source quipped.
With the loss of his group, Farage, who recently said that migrants to the UK should be tested for HIV, will lose speaking time, a seat in political leaders' meetings and millions in funding money allocated to groups. In 2013, his group received €2.6 million.
But while many pro-EU politicians openly applaud the breakup of "Farage's group", they also worry that this will spur once again the French far right leader, Marine Le Pen, into having another go at forming a group of her own.
Back in the summer, Le Pen failed to gather MEPs from enough countries because Farage beat her to it.
So Farage loses his front row seat where he can grandstand and abuse the EU crats but it does show Farage's huge weakness of making statements on the hoof. The Latvians suffered terribly under the Russians from 1940 until the breakup of the Soviet Union. It was crass and so typical of Farage to make all these pro Russian statements which so upset his Latvian allies.
Does anyone still think this man has the political skills needed to get us an in/out EU referendum. He is no Alex Salmond. He is just a beer fueled, fag smoking rabble rouser that will never get women's votes. Time for man overboard on the SS UKIP.
and from East Asia via Gudio Fawkes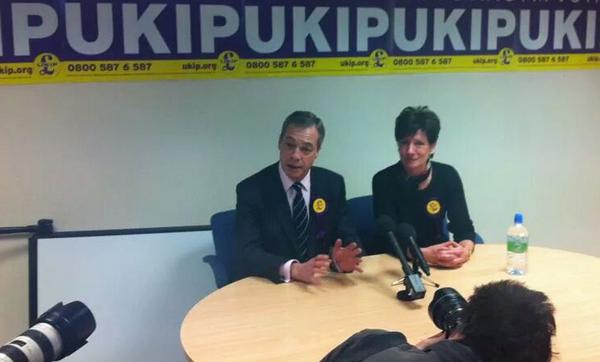 An oriental co-conspirator points out that PUKI is Filipino for vagina…
Just reported today Monday 20th Oct Farage has recruited a Polish MEP to give him the seven differebt bationalities and get him back on the gravy train!