At best a half truth or half lie depending on the view you take.
The latest figures below from HMRC over the last two years tell the truth
Each month we import goods worth around 6 billion sterling than we export. Over a year that comes to £72 billion. That means we are exporting millions of high skilled jobs to the EU, jobs that are our children's birthright and which we should be training them to do. Worse these jobs are being stripped out of the manufacturing areas of the UK, the North and the Midlands the poorest parts of our country. The service sector which runs a smaller difficult to estimate surplus is of course concentrated in London and the South East. So being in the EU shows Gideon's Northern powerhouse as pure pie in the sky.
The breakdown by country of our trade deficit is instructive
Partner
March 2015


Comparison (Feb 2015)
Exports: £2.8bn

Imports: £5.6bn



19.5%

10.1%
Exports: £1.3bn

Imports: £2.7bn



-17.1%

22.0%
Exports: £1.6bn

Imports: £2.1bn



9.5%

-2.3%
Exports: £1.4bn

Imports: £1.0bn



5.2%

13.8%
Exports: £1.0bn

Imports: £1.9bn



20.7%

11.4%
No wonder the Eurocrats want the UK to stay in. As well as paying the bills we also provide jobs for Johnny EU Foreigner.
Time to nail the big market lie. Yes it is a big market but it benefits Johnny Foreigner not us. Thats why when we leave Merkel, Hollande etc will be beating a path to No 10 to sign trade deals with us!
PS latest figures published by Sky's Ed Conway shows how our exports to the EU are collapsing and those to the rest of the world growing. Game set and match to the get out campaign.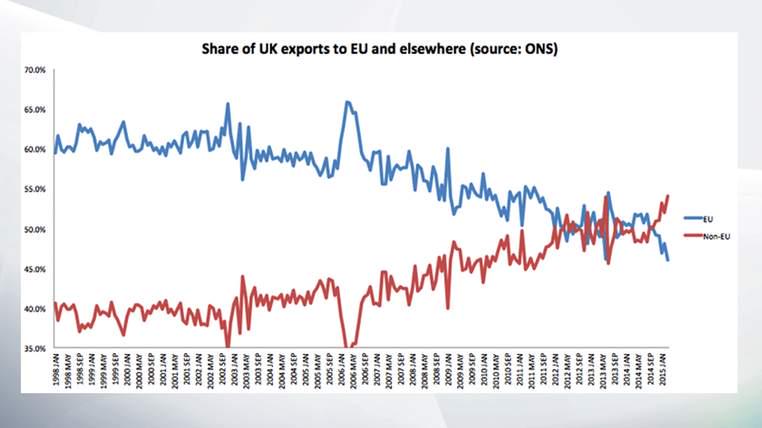 http://news.sky.com/story/1492108/why-should-uk-stay-hitched-to-shrinking-eu