Prime Minister David Cameron from 8000 miles away urged voters to "listen to our friends" on the impact of Brexit
What friends? They are all there to represe
nt their own interests apart from Cameron who seems to represent everyone else's intere
st except the UK..
Another own goal from the team that brought you the Big Red Bus with the demostrably false £350 million claim emblazoned on the side.
Vote Leave are offering football fans £50m if they can correctly predict the outcome of every game in the upcoming European Championships
Who are these idiots running Vote Leave? Who picked them? They must be Tory Remain plants.
Straw Jnr telling porkies to Sven Goran Erikson. Sven was having none of it.
Let us hope Chilcot shafts Straw Snr over Iraq.
https://t.co/ZUd8QdWQna
Here is another liar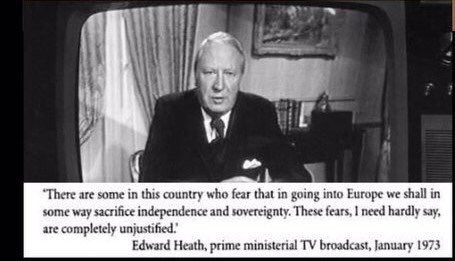 As Dan Hanaan says
Fool me once, shame on you. Fool me twice, shame on me.
I fear there will be a lot of shameless fools on 24 June.
I saw this girl on QT last night tellinjg it as it is for those at the botom of the food chain. The piece is from the Daily Mail website.
Emily Wood, 28, from Poole, who lives with mother Valerie and father Roderick (together at home today), says they have even visited the council houses and told MailOnline: 'When we have gone round to see who has ended up in the property, it has usually been immigrants'. Miss Wood (bottom left) rowed with MPs and audience members on live TV but has stood by her comments, saying: 'I had to speak up for my generation'. Asma Butt (bottom right), from Aberdeen, was among her critics last night'. But today Miss Wood stood by her comments on TV last night and told MailOnline: 'I felt I had to speak up for my generation'.
Meeting real people with real problems is something the political elite hate and seek to avoid whenever possible. Remember Mrs Duffy and G Brown! Postie Johnson was on the panel last night. He seems to have gotten very grand since he left the sorting office and joined the elite. It must be sitting on A F Neil's red sofa that did it. Diane Abbott another champion of the poor that went the same way after she sat on the Red beast..